I have not posted on here for a LONG time. So far 2007 has been my absolute best year of fishing yet. i caught many large fish. including a few odd and rare catches.
this year i began fly fishing for carp cand landed my biggest carp ever with 6 lb test tippet! it took 2 hours to finally subdue the fish.
I caught my new PB channel catfish that shattered my old pb of 12 lbs by 10 lbs!!! the cat weighed 22 lbs 6 oz.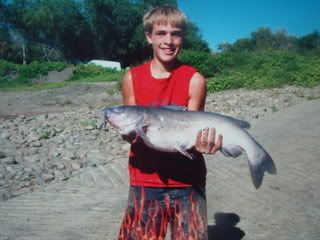 i caught this small channel catfish in lake agnes! channel cats arent even know to be in any lakes around here. sorry for the blurry pic
the day after i caught that catfish i caught a 4 lb 6 oz largemouth Bass in the same spot... weird huh? that won me the weekly winner for the Jr. age Largemouth bass section.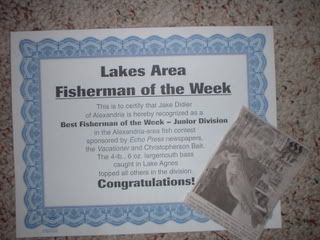 i caught a rare mirror carp on lake winona weighing 4 lbs 6 oz.
i caught a 2 snapping turtles in 2 days.
this one while fishing for crappies. he took a yellow twister tail grub.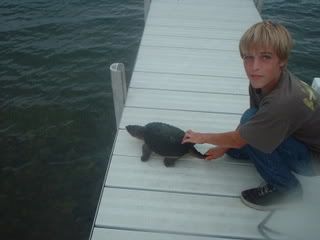 and this on took a jig and nightcrawler while fishing for bass off the Lake Geneva pier. he was HUGE i would have gotten him onto the peir but there was a little boy and his dad there and i didnt want to take the chance so i cut the line.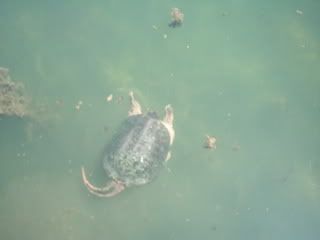 i caught this AWESOME bass on lake geneva. set my rod down with the shiner 2 feet under the peir just to get a drink before i recasted and my rod started bending toward the water. pulled it up and brought up this BIG bass.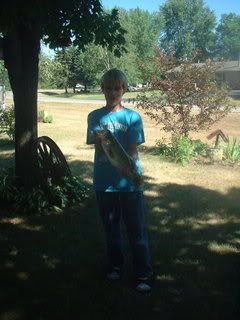 I caught this HUGE goldfish off lake geneva peir.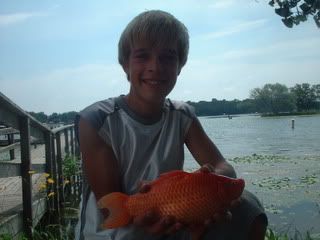 i caught my first 2 bowfin
this one was my first weighed 6 lbs 15 oz
and this was my second weghed 7 lb 6 oz.
i caught my 2nd walleye and 3rd walleye ever off the city park peir. (i caught alot of walleyes from other lakes though)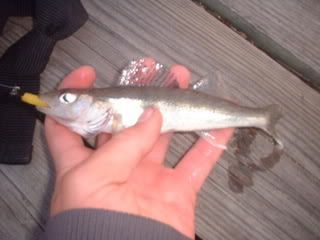 i also got my friend cody into his first carp and addicted to carping
i caught 3 deformed carp. 2 in one day. but all in the same area! in my backyard going to Lake Le Homme Dieu
this one was on of the 2 caught on the same day. he she weighed about 18 lbs.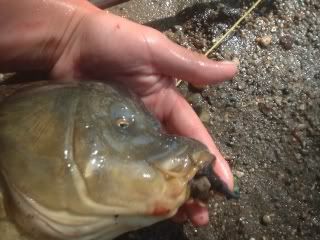 this was the other one that day. she weighed about 15 lbs. i dont know what that is but it was like an extra appendige.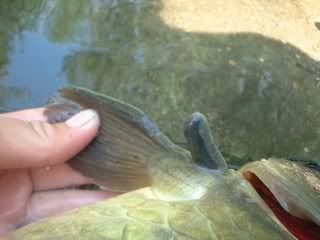 and i caught this one in august. he weighed 6 lbs 15 oz. and had a deformed mouth but he was healthy so he must have been eating well.
and i won the jr best story and jr best photo on the CAG (carp anglers group) discovery month. the prizes i won were a scorpion tackle 5 play rod pod. and a DAM quick finnesa bait feeder reel and a DAM telescopic green cross power carp rod.
DAM quick finessa bait feeder reel.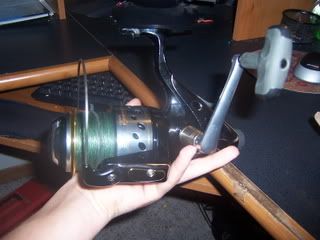 rod and reel collapsed
rod and reel together.
rod pod, rod, and reel